Granulext
More than 100 years of cork tradition
Our history
Driving and innovating the cork industry for more than 100 years.
THE PRADO FAMILY HISTORY IN THE CORK BUSINESS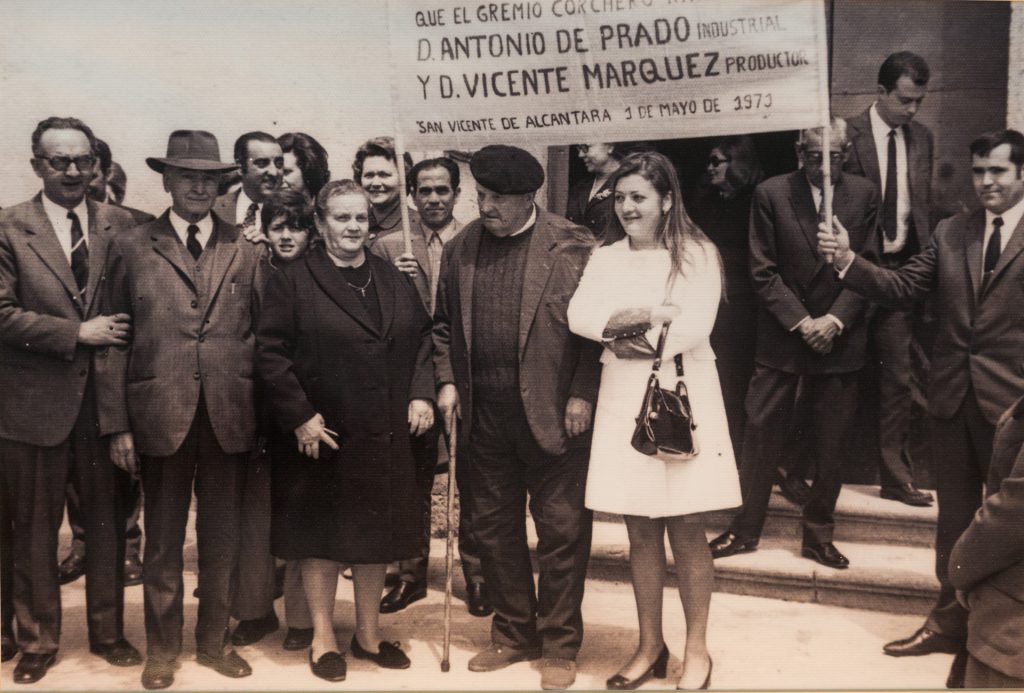 Actually, the one who started his career in cork was Antonio de Prado Amatriaín, a man of a distinguished family dedicated to agriculture and livestock and who was orphaned at 8 of father and mother growing up with his first cousins whose, curiously, last name was the same as his.
This being true, it would not be fair to ignore his father-in-law Zacarías Cordero Talavera, a merchant who arrived from Brozas at the end of the 19th century and who settled in San Vicente de Alcántara. It seems he was a very smart and hardworking man, he immediately began to prosper and his successes did not go unnoticed. An important man at the time in San Vicente de Alcántara set up a business for his son and when he died of tuberculosis, he called Zacarías Cordero and proposed that he keep the factory that he had set up, in the heart of the town, for his son and for which he had lost all hope. Zacarías Cordero, nicknamed "FRESCALLÓN", a nickname given to him by his later wife the same day he arrived in San Vicente when he saw his tall and strong looks. He answered that he did not have the money to buy the factory. This man insisted, inviting him to accept his offer and pay him off as he was able.
Thus was born the emblematic factory of "FRESCALLON". At the beginning it produced oil and flour, very needed ingredients in those troubled times, then, before the big electricity companies arrived to Extremadura, it installed a power generator and sold electricity to the neighbors who could afford it. It must be pointed out that at the time, the population of San Vicente de Alcántara doubled the current one.
Not only did he pay off the factory in a short space of time, he also made enough money to set up a small bank.
Zacarías Cordero had two children: Zacarías and Carmen Cordero Sellés. The male studied medicine and Carmen married Antonio de Prado Amatriaín. Upon the sudden and unfortunate death of Zacarías Cordero Talavera, a victim of diabetes in his early 50s, his son-in-law Antonio de Prado Amatriaín took over the business, then dedicated to livestock on lands inherited by his uncle Modesto Amatriaín, a military and single man. He kept the factory solving the inheritance with patrimonial exchanges with his brother-in-law Zacarías with whom he always maintained an extraordinary relationship. It was really difficult not to get along with the new "FRESCALLON".
The marriage formed by Antonio and Carmen produced 4 children, two boys and two girls, one of whom died when she was very young.
They sent their children Ricardo and Zacarías off to study, Carmen 9 years younger than Zacarías, as was typical at the time, stayed at home learning to be a house wife.
The cork industry origin in San Vicente de Alcántara was brought by Mr. Henry Buchnall in 1872, the business was greatly boosted with the arrival of the railroad in 1880. Later, George Robinson bought it in 1888 and kept it until 1902 as a factory for cork and leather tanning with its own tannins.
Finally, this factory, called "LA FABRICA DEL INGLÉS", passed into the hands of the Prado family, setting up a cork preparation factory while the flour mills and oil presses of the other factory were converted into granulate factories.
When the Civil War began, Ricardo was conscripted and sent to the front, they immediately made him an official. Zacarías having his brother already in the war did not have to go. When the war ended, Ricardo had the dilemma of continuing his prosperous military career, being little over 20 he was already a Lieutenant and could have become a General, or to enter the business. He opted for the latter and his father took the opportunity to continue preparing cork in the Inglés factory, combining it with his true vocation as a farmer.
Ricardo married Iris Aymerich, the only daughter of D. Narciso Aymerich, and later Zacarías married Matilde Habela. They decided to set up a subsidiary in Constantina (SEVILLA) and Zacarías went to live there to take charge of the company, three of his four children were born there.
In the 1950s, Ricardo decides to go to Algeciras to run his father-in-law's sheet cork factory, CORCHOS EXTREMEÑOS, after a few years running the San Vicente de Alcántara company with a hired person, Constantina closed and he took over the company of San Vicente de Alcántara Zacarías.
Their father continued with La Fábrica del Inglés and his cattle,. He always kept this business with the idea that it would go to his daughter, married to Isaías Benito, a valued chemist. He suffered for years a serious illness and was always accompanied, from a very young age, the only son of his daughter. He always dedicated himself to cork.
It is true that the company prospered, there were very good moments. Ricardo's serenity contrasted with Zacarías's impulsiveness but in any case they always had a fantastic relationship. With the growth of the company, Zacarías began to do what he knew best, sell. Ricardo, by then an influential person helped exonerate a Portuguese man who was blamed unfairly by the company he ran in Portugal. Antonio Iglesias Cruz, was a great man, he was fluent in 7 languages and a commercial office was opened in Madrid, first at 200 Alcala street and then at 100 Embajadores Street. They traveled the world and created a market, unthinkable then for any company in Extremadura. They were extraordinary years.
A few years after the death of Antonio de Prado Amatriaín, another generation started in the Cork business: Antonio de Prado and Rafael Benito. Ricardo had a son, but he was never concerned about the business. Under the tutelage of Zacarías, both in the cork and livestock businesses, Antonio and Rafael started from the bottom, mowing hay, grinding feed, loading trucks and wagons, taking shifts at the mills, etc. He did not set a time to go to bed but he did to get up to work.
With the granulate crisis, due to multiple factors, especially the replacement of the soft drink capsule (Coca-Cola, Pepsi-Cola, etc.) and beer for plastic, not only did the business go bankrupt, but Zacarías' dream: Manufacturas del Corcho Prado, SA, established and with the project done also dissolved.
Zacarías did not give up, with his son and his nephew and 25 workers of the company, those who did not want to enter the adventure were compensated. SALCO, SOCIEDAD ANÓNIMA LABORAL DEL CORCHO, was born.
Rafael, after a few years decided to start his career in the Cork Sheet. Antonio stayed by his father's side and finally culminated in what is today GRANULEXT, SL